Delhi 99

Shalimar City

Technocity

Laboni

Sai Sharnam

Richmond Park

Officer City-2

GNB

Royal Builder

Testimonial:

"Sai Sarnam presents a life time opportunity to Sai devotees to fulfill their wishes of a home at Shirdi. This nicely constructed campus is carefully designed keeping in view the spiritual needs of the devotees, providing an excellent ambience and comfort to devotees of all age groups. The people behind this project are Sai devotees themselves and developing this area with passion and commitment. I am very satisfied with my association with Sai Sharnam, exemplary zeal. devotion and desire of the developers to make all the allottees feel comfortable." - M K Saxena, Sai Vatika, I-Block
About Proview


'Proview' has been in the pre-front of introducing & incorporating latest construction and building technologies in the company's work ethics. As a result of this, the group today has to its credit some of the landmark developments across the country.

'Proview' is a proactive player buzzword for innovations and new ideas in this industry.
more..
Featured Project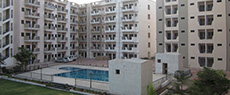 Introducing Sai Sharnam Apartments amidst these virgin hills they stand to compliment the spirit of self-discovery. more..
LOANS APPROVED BY: